Welcome to our web site! There is probably no other Martial Art in the world more street and battle-tested than Krav Maga, the official fighting system of the Israeli Defence Forces (IDF).
Krav Maga, is the only official system of defensive tactics and fighting skills from Israel. Krav Maga has a long and credible history and is regarded by many to be the best self defence system around. We know Krav Maga works and it works under stress. All Krav Maga techniques are tried and tested in real-life situations: Krav Maga is the official fighting system of the IDF. When you learn Krav Maga you can rest assured you are learning techniques that are proven to work. Krav Maga is quick to learn and easy to retain. Krav Maga has no sporting applications, although there is a grading system for people who wish to monitor their own progress.

Our Goal...
It is our belief that everybody, no matter what age, weight, gender or body type, has the right to defend themselves and their loved ones.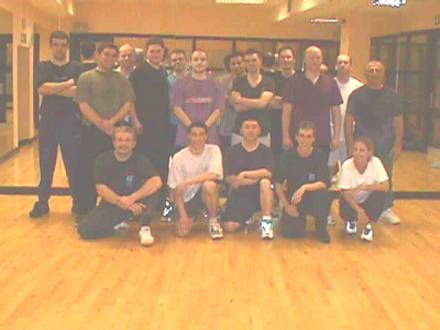 Pictured on the right are some of our better looking students!
PS Can you spot the celebrity